One of the genres of music I've always been fascinated with is Psychobilly. The scene, the lyrics, the imagery is always something inspiring. It's like if the 50s was under constant zombie invasion. And the women are always beautiful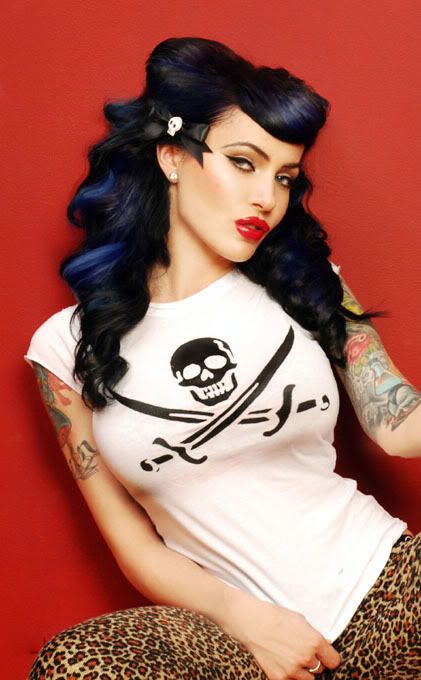 -- oh yessss. The problem I have with this genre of music is that it all sounds the same. If you've heard one psychobilly band, you've basically heard them all. It's very hard to find psychobilly bands with their own style. The Horrorpops are a band that immediately sticks out to me when I think of psychobilly, not just because of the gruesome female vocals, but also the hard rock style they present themselves with.
Hell Yeah!
(2004)
The very first Horrorpops album. With amazing vocal work by Patricia Day, and great guitar pieces by Kim Nekroman, this is an explosive first album. Day knows how to slap a double bass like a son of a gun.. I usually listen to their stuff every year around Halloween time, and it's got that perfect mixture of a cheesy Horror film. I liken this album to classic monster movies. This is something Boris Karloff would jam out to -- if he were still alive.
RATING: 3/5
Bring it On!
(2005)
By far my favorite Horrorpops album. First one I physically bought too. Fantastic energetic songs that make you want to rise out of your grave and kick some 50s teeny-bopper ass. The first time I heard Patricia Day's vocals in "Walk Like a Zombie" I was IN LOVE. She has all the presence of a ghoulish ghost queen and so much more. Other fantastic songs of mention are: "Crawl Straight Home", "You vs. Me" and "Freaks in Uniform".
This is the defining album of their sound, and something I instantly recommend for anyone wanting to get into this band.
RATING: 4/5
Kiss Kiss Kill Kill
(2008)
Something a little more subdued and not as explosive, this is a slight departure from their more punk fueled roots. It's definitely got a slower feel too it, and it's almost a little more classy sounding than the previous two albums. If the first album was an ode to classic horror films, this is more of an ode to romantic horror stories. A few songs worth checking out from this album are: "Highway 55", "Hitchcock Street", and "Thelma and Louise".
Fantastic album overall, and it gets a positive reaction for having a new direction and working with it.
RATING: 4/5